Ben NICHOLSON: 5 Circles - 1934
SOLD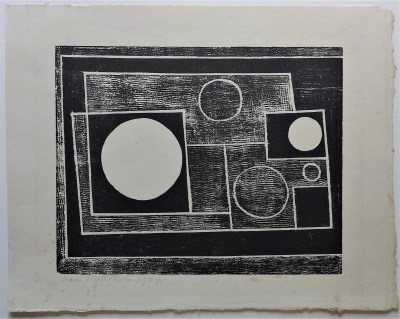 SOLD
Woodcut, 158 x 200 mm (A-Cristea 20, Lewison 7) also known as Composition or Abstract.
From the edition of 50 printed for Anatole Jakovski in a portfolio of 23 prints by European artists, published in Paris in 1935 by Editions G. Orobitz.
Very fine impression on wove paper, signed Ben Nicholson and dated 1934 in pencil (signature a little pale as usual). A few pale foxing in the margin; a skinning of paper verso in the margin lower left; otherwise in very good condition. Sheet : 215 x 270 mm.
An edition of 300 was printed in 1962 on a different paper by the Kestner Gesellschaft with their stamp on the reverse (AC-33). Lewinson says the prints are signed 'Nicholson 1934' but we have seen only copies signed 'BN 34'.
« The portfolio was intended to act as an 'édition de luxe' for a subsequent collection of essays by Jakovski on Marcel Duchamp and the artists from whom the prints were commissioned, but its lack of financial success prevented the publication of the essays. The published album, which can be seen in the Victoria and Albert Museum Library, was printed in an edition of 50, of which the first 20 were available for sale and the remaining 30 were given to the artists and collaborators. An unspecified number of artist's proofs were also made. » (Frances Carey & Antony Griffiths, 'Avant-Garde British Printmaking 1914-1960', BMP, no.75. quoted by the British Museum).
Contrary to what Lewinson said 5 Circles was not "an odd inclusion" in the portfolio published by Anatole Jakovski, which contained several other abstract works by Giacometti, Helion, Magnelli, Arp and Kandinsky. Jakovski was indeed fond of abstract painting, as demonstrated by his article for Axis No .1, january 1935, p. 14.
5 Circles, made in 1934, is Nicholson's only woodcut. 1934 is an important year in his life and work. In 1933, Nicholson "had co-founded Unit One with Henry Moore, Paul Nash and Barbara Hepworth whom he later married in 1938." (Allan Cristea Gallery). The composition of 5 Circles is close to the painted reliefs he had begun to carve : 1934 (5 Circles), 1934 project for Massine for Beethoven 7th Symphony Ballet (Tate Gallery), 1934 (relief), Carved Relief, 1934 (photographed in Axis No .1, january 1935, p. 6). Barbara Hepworth, who lived with Nicholson from 1934 to 1951, certainly remembered 5 Circles when she drew the lithograph Square and circles in 1969.
References: Ben Nicholson, Prints 1928-1968, The Rentsch Collection, Essay by Jeremy Lewinson, Alan Cristea Gallery, 2007, pp. 17-18; Frances Carey & Antony Griffiths, 'Avant-Garde British Printmaking 1914-1960'; Axis No .1, january 1935.