Rodolphe BRESDIN: Le Repos en Égypte à l'âne bâté - 1871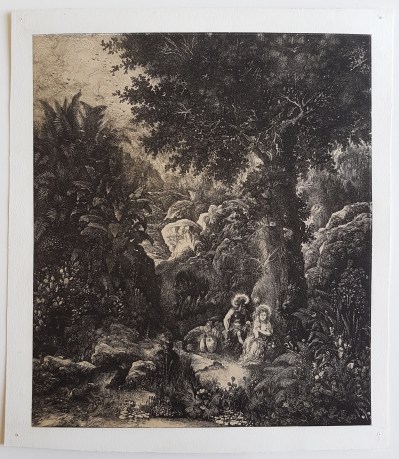 Price: € 7500


[The Rest on the Flight into Egypt with a Saddled Donkey]
Lithograph transferred from an etching, 230 x 199 mm. Van Gelder 138, report sur pierre i/II.
Impression from the 1st state (of 2) of the lithography transferred from an impression of the 1st state (of 2) of the etching.
Very fine impression printed on ochre chine appliqué on heavy wove paper.
Impression in superb condition. Pin holes in the corners of the wove sheet. Small margins (sheet: 258 x 225 mm). The chine appliqué sheet is slightly smaller than the image, as is often the case on lifetime impressions.
No impression of the 1st state of the etching is known. Bresdin had the transfer lithograph, taken from an impression of this first state, printed in Paris in 1873 in Lemercier's workshop. An invoice from Lemercier, reproduced in Van Gelder's catalogue raisonne, indicates a print run of 110 copies, but only some very rare copies remain, according to Van Gelder:
"Bresdin probably took with him to Canada a hundred copies of each of the seven etchings [that is, of the transfer lithographs printed by Lemercier]. The remaining ten copies of each print he might have sold or given away to friends as gifts before he left. This explains why some copies of the print runs made in 1873 still exist, between three and nine depending on the works, even though the hundreds of copies taken to Canada (nine hundred including the two lithographs [The Good Samaritan and The Comedy of Death, reprinted at roughly the same time by Lemercier]) have all been destroyed." (Dirk van Gelder, Rodolphe Bresdin, La Haye, 1976: vol. I, Appendice V, Les reports sur pierre de huit eaux-fortes de Bresdin, p. 176).
Bresdin reworked the stone in 1878 with lithographic ink and drypoint: he added plants and foliage and darkened the rocky landscape behind the donkey. Lemercier took care of the print run for this second state, 50 copies, in 1880. Bresdin also reworked the copperplate for the etching, adding to the vegetation and amplifying it to the point of obscuring the rocky landscape.
Le Repos en Égypte à l'âne bâté is characteristic of Bresdin's obsessions: the theme of the Holy Family is a constant in his work (Maxime Préaud listed seventeen prints by Bresdin on the subject), and the artist frequently reuses numerous elements that can be found throughout his œuvre: the rocky landscape dominated by a castle, the gap through luxuriant trees, characters represented as they are resting and a secret fauna that prowls under the dark cover of vegetation. Here, in the lower left-hand corner of Le Repos en Égypte à l'âne bâté, above the rocks, can be seen the smiling monkey that also appears in La Fuite en Égypte ([The Flight Into Egypt], 1855) and in Le Bon Samaritain ([The Good Samaritan], 1861).